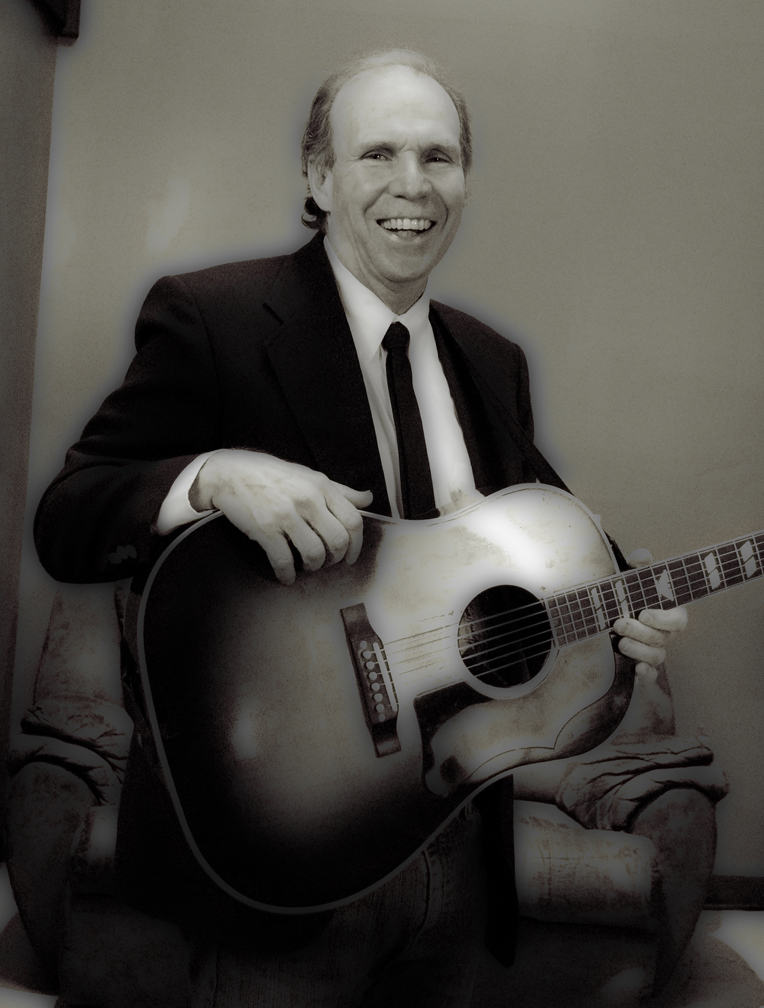 Jim Gaudet
Lead Vocals, Acoustic Guitar
Jim Gaudet is a folksinger but mostly he is a story teller and he does it extremely well. Whether singing about a baseball hero, a favorite soup or a childhood love, Jim's straight forward approach is remarkably refreshing.
Jim took the first nervous steps up to the open mic (circa  1988) — singing favorite tunes at well-known Upstate New York haunts like Saratoga Springs' Caffe Lena and Albany's Eight Step Coffeehouse. Within a few months he's replaced covers with his own stunning, confident originals (one of them, "The Basement on Willett Street", canonized the latter's open stage crew) and was well on his way to becoming a regional favorite.
He began to gain momentum and eventually arrived in the late 80s as a classic singer/songwriter, establishing an immediate, fresh style marked by wry humor, deep insight and fascinating melodic turns. He penned contemporary classics like "We Talked About The Rain," "The Boy Who Would Be King" and "In Real Life," which appeared on a number of well-received albums, including "It's a Colorful Life" and "Give Up The Ghost" on the powerhouse NYC folk label, 800-Prime CD
He then went on to headline sold-out shows of his own at clubs throughout New York State (like the PostCrypt in New York and the Zodiac in Syracuse) — winning audiences with his witty, unassuming stage presence, deft fretting, and those special songs. Few mix candor and comedy as well as Gaudet.
It was around the year 2001 that Jim went missing in action for a few years tending to family duties and wondering whether or not he'd actually ever open his guitar case again.
That question was clearly answered given the release in 2007 of "Recalling It Quits".   "Recalling It Quits" (produced by fellow Albany songwriter Michael Eck) reflects Gaudet's ability to embrace folk, country, and bluegrass while retaining his own unmistakable identity.
It was at this point that the seed was planted that would eventually become Jim's own style and creation. It is music that he labels and refers to as "Hillbilly Rock and Roll".
Jim has fused the many influences of his past to forge this new sound. With the help of The Railroad Boys (bassist/vocalist, Bobby Ristau and mandolinist/guitarist, Sten Isachsen), Gaudet is anchoring his deft wordplay and savvy songcraft in the classic roots music that so thrilled him as a young man. It's a unique, driving style, firmly-based in Americana; and Gaudet's own guitar work is now more fiery than ever, characterized by forceful, percussive rhythms that lack for easy comparison.
Now, just about eight years hence, in the year 2017, JG and The RR Boys have firmly established themselves as a headlining act having appeared in many of the finest venues and festivals in the country. Most notably, "Music City Roots", Nashville, TN, Wintergrass, Seattle, WA, Grey Fox (6x's), and the High Mountain Festival in Westcliffe CO. In addition, there have been four subsequent CD releases in that span of time now totaling Five in all. As a result of all their dedicated time and effort, wonderful opportunities have continuously been coming along as JG and The RR Boys eagerly look forward to what is a bright and promising future.