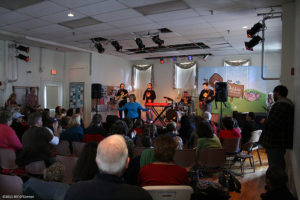 05/12/2018
Rockport, MA
Saturday, May 12 at 7:30PM
This co-bill features Susan Cattaneo and Jim Gaudet, two performers that are quite different and yet somehow complementary.
Susan Cattaneo is one of Boston's most respected songwriters. A powerful singer and sophisticated writer, Susan combines vivid storytelling with a modern songwriter's spin. Respectful of tradition, but not bound by it, Susan blends rock, folk and blues with a healthy dose of country. Call it New England Americana with a twang. In addition to being a solo performing artist, Susan has been teaching songwriting at the Berklee College of Music for over 10 years, and has also recently joined the Western Mass trio The Boxcar Lilies. Susan will appear at Old Sloop Coffeehouse with a small backup band that includes Cape Ann favorite Renée Dupuis.
Jim Gaudet and The Railroad Boys make one feel as if they're traveling in time, maybe back to Louisiana in 1963. Mel Guarino of The Bluebillies said, "There is no other band that I know that can sound so modern and yet so classic and nostalgic. It's at once, "Old Timey" and "Timeless", echoing the sound and feel of maybe Hank Williams or the Stanley Brothers, with a "hill-billy" edge." The RR Boys consistently bridge the gap between themselves and their audience, essentially creating one big "down home" family who've been brought together by their shared experience through Jim and The RR Boys' songs and musical stories.