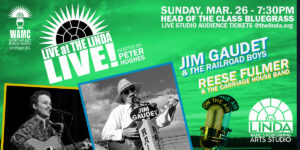 03/26/2023
Albany, NY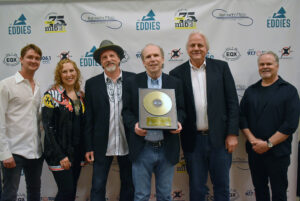 WAMC's LIVE AT THE LINDA LIVE hosted by Peter Hughes broadcasts live on WAMC – Northeast Public Radio from our performing arts studio – "The Linda." You can be in the live studio audience for the outstanding show we're calling HEad of the Class Bluegrass featuring Reese Fulmer and the Full Carriage Band and Jim Gaudet and the Railroad Boys.
Jim Gaudet and The Railroad Boys
Jim Gaudet and The Railroad Boys make one feel as if they're traveling in time, maybe back to Louisiana in 1963. Mel Guarino of The Bluebillies said, "There is no other band that I know that can sound so modern and yet so classic and nostalgic. It's at once, "Old Timey" and "Timeless", echoing the sound and feel of maybe Hank Williams or the Stanley Brothers, with a "hill-billy" edge."
Reese Fulmer & The Carriage House Band
If you ask Reese about himself, he'll tell you he's a brand new soul. But his songs tell a different story, with a clear eye, poetic touch, and unique imagination, of a conduit to something much older and deeper. Born and raised in Gloucester, MA, Reese has quickly made a name for himself in the Capital Region, NY, as a precocious songwriter and engaging performer, with a sound reminiscent of Josh Ritter, Justin Townes Earle, and Iron & Wine.
The Carriage House Band features a fluid lineup with some of the finest and most versatile musicians in the Capital Region, including Chris Carey, James Gascoyne, Andy Arnold, Connor Dunn, JP Hubbs, Orion Kribs, Dustin DeLuke, Julia Alsarraf, Bobby Kendall, Matt Griffin, Chris Bloniarz, Sara Milonovich, & Paul Guay