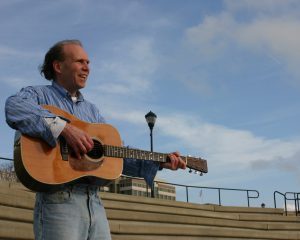 06/07/2019
Saratoga Springs, NY
A remarkable songwriter celebrates the release of his first solo record
From the folks at Caffe Lena:  Whether singing about a baseball hero, a favorite soup or a childhood love, Jim Gaudet is a songwriter and storyteller whose straightforward approach is remarkably refreshing. As a self-taught guitarist, he has a unique and genuine style that sets him apart from those who go by the books. Gaudet fuses many influences to forge his one-of-a-kind sound he describes as "Hillbilly Rock & Roll."
Jim Gaudet & The Railroad Boys, have entertained and been crowd favorites to audiences at some of the finest venues and festivals across the country. After many years with the band, Gaudet has chosen to delve back into his songs from his years as a solo act. The purpose of this new project was to capture the songs he had written throughout the years but never recorded or performed with the RR Boys. Gaudet will celebrate the release of his solo album "Real Stories & Other Tall Tales," with this very special show with some very special guests at Caffe Lena!
Caffè Lena is a non-profit arts organization known internationally for its more than 50 years of presenting emerging artists and preserving folk music traditions in a classic coffeehouse setting.
Caffè Lena is the longest continuously operating folk music venue in the United States, evolving from humble beginnings to become a landmark acoustic music venue. The organization enjoys a strong reputa…tion for excellence, as evidenced by its recognition as "Best Small Venue" in North America by Folk Alliance International.
Self-serve refreshments are available mid-week, and a more complete menu, including light vegetarian fare, house made desserts, specialty coffees and teas are available at ticketed events.